In my book, the colder months always require a belly-warming soup.  We are busy during the day and in the evening so it is important that we have quick and healthy dinners that satisfy us and leave us eager for leftovers for the next day's lunch.  Enter this delicious Carrot Coconut Ginger Soup.  This soup brings out the sweetness in carrots, has creaminess from the coconut, and a little zine with the ginger and cayenne (optional).  Even though the cayenne is optional, I feel it really rounds out the flavor profile and gives it the spice the soup deserves.
Carrots are such a great vegetable to eat raw or to cook with.  They contain so many nutrients that our body craves.  Carrots contain a good amount of Vitamin A which protects ocular health.  Vitamin A is also known to strengthen our immune system which is necessary in the colder months.  Carrots are also high in fiber which is very important to our digestive system because it helps food travel through our intestines easily and allows for the nutrients to be absorbed.  Carrots are also known to have beta carotene which may help prevent age-related health issues such as gastric and certain types of cancer such as prostate, colon, and stomach cancers.  Eating carrots regularly can lower cholesterol levels.
Carrots also come in a variety of colors such as purple, yellow, and white.  They all have the same delicious taste but it is always fun to eat the rainbow!
Now onto my yummy recipe which will make you reach for more!  This soup can be made in about 30 minutes and is perfect for those busy evenings.  It can serve a crowd of different dietary restrictions since it is gluten-free, vegan, and dairy-free.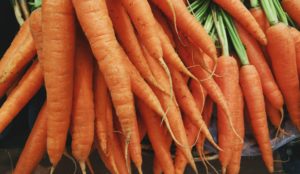 Carrot Coconut Ginger Soup
Serves 4-6 people
2 tablespoons coconut oil
1 diced onion
1 tablespoon fresh grated ginger
10 carrots, peeled and sliced
2 cups vegetable broth
1 (14 0z) can full-fat coconut milk
teaspoon chia seeds (optional)
pinch of cayenne pepper (optional)
Heat coconut oil in a large pot or french oven over medium heat.  Once the oil is hot, add diced onions.  Saute until 5 minutes or until translucent.  Add fresh ginger and carrots.  Saute the vegetables for 5 more minutes under medium heat.
Add vegetable broth and coconut milk.  Turn the heat to high and let boil.  Once boiled, turn the heat to low, cover and let simmer for 20- 25 minutes.
Remove from stove and blend ingredients together in a high-speed blender or immersion blender.  Add salt and pepper to taste.
After the soup is blended add an optional teaspoon of chia seeds and a pinch of cayenne pepper.  The soup is amazing both ways!